May 04, 2020
Shevi Rosner is like many front-line health care workers around the world, who are risking their lives each day to save others during the Coronavirus pandemic. As an observant Jew, she also has the opportunity to make a Kiddush Hashem through the Orthodox Jewish Nurses Association, where she has fundraised to procure masks and necessary equipment for nurses everywhere."We're all busy now with Covid19, and [the OJNA] jumped in and did a fundraiser with so far 500 packages of N95 and surgical masks in New York, New Jersey, Baltimore, Waterbury and Miami. We have African American, non-Jews who've requested and we've met their need."
Rosner, who lives in Northern New Jersey and works at Columbia Presbyterian in Manhattan has been a nurse there for 13 years. "For the last seven and a half years, I've been in the NICU." Now the Charge Nurse in Neonatal Intensive Care Unit, she manages nurses and patients for that shift. With Covid19, "We're affected a little differently. If the moms are sick they can't come [see their babies]. It's usually four visitors [per patient] and now it's one." This means that one parent won't be able to see their own baby. "It's impacted us a lot and our workflow too. Other campuses bring their moms and babies to us." Along with this comes dealing with new staff and new patients, as some hospitals have shut their NICUs to solely serve Covid19 patients, such as Cornell. "You've just got to go with the flow and deal with it…Teamwork we've always had, but this is different."
Because of the new requirements, supplies are much more in demand and harder to get. "There's less masks, Purell and gloves. Everything is accounted for. We're used to being very wasteful with supplies. Now you just have to preserve everything." While this news has been in the headlines, it becomes more meaningful when seeing the day-to-day effect on her and her staff. "We have to wipe down our masks and face shields. Many of us have reached out to companies to purchase PPE. It's unfortunate that it's not what the prices used to be."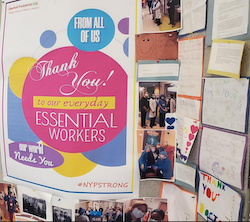 That's where OJNA got involved. By fundraising for equipment, they have been able to distribute masks to thousands in need. "We had bought Argaman masks, a very high tech mask. People have been asking. They are $50 each. We spent thousands on them. We purchased N100s, which are very protective and tight and washable, reusable." They started by reaching out to members and soon heard from many outside the Jewish community. OJNA answered the call. "They were so grateful and thankful that the Jews are willing to share what they have. [We received] such nice feedback. We've also given to the Chevra Kadisha, Funeral Directors and Dentists who need." Here is a snapshot of some feedback:
"Thank you, your kindness and generosity is truly appreciated, may God continue to Bless the Orthodox Jewish Nurses Association."
"An African American nurse came today to pick up her masks. We happened to be outside. Was a big kiddush HaShem. We were thanking her for her dedication."
"Guy came today, a non-Jewish guy…He was crying. He was so appreciative of the masks."
"My role is Nurse manager and I do direct patient care. We have positive Covid-19 patients in our facility and unfortunately, the number is growing day by day. I desperately need N95 masks as I am asthmatic and so are my children. Greatly appreciated!"
"This is a truly amazing thing that you are doing. Thank you so much for the support. It is incredible! Please let me know if your organization takes monetary donations as well so that I can give a donation to help you keep doing what you do!"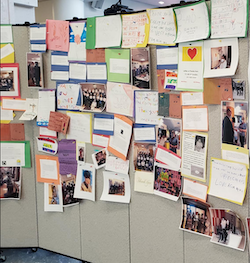 In 2010, Rivka Pomerantz started a discussion board forum, which slowly evolved into what OJNA is today. The organization was officially founded in 2016. OJNA hosts annual nursing conferences with professional speakers and a Facebook group with over 2300 nurses, NPs, and Nursing students. Some Facebook posts relate to Judaism, others ask questions, offer stress relief, and discuss best practices. "There's a lot of death we're all dealing with and situations we've never had before." The conferences offer continuing education credits nurses need for their licensing.
OJNA has also been holding weekly Zoom calls with 60-170 nurses attending. Focused on increasing positivity and support, this week's call featured Rabbi Dr. David Fox, infectious disease expert Dr. Berman, trainer Atara Weisberger on stress eating and Bergen County Covid survivor Michael Goldsmith and his wife as patient and family perspective. OJNA is also giving out pulse-ox monitors to high-risk members in the community. "There is huge demand and people are appreciative." With current distribution in Clifton and Brooklyn by volunteer delivery, they will expand the program if more funding is received.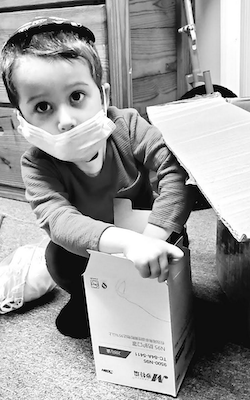 Rosner grew up religious in Washington Heights. Born in the hospital she now works in, her father is Rav Schachter, renowned Rosh Yeshiva at Yeshiva University. Rosner's husband and children (ages 3-13) are also incredibly supportive. "They are proud of me and involved in the mask distribution." While the stay-at-home orders haven't been easy, the Rosners have been making it work. "It's challenging because we can't have childcare in the house. On my days off, I'm full-time mommy and housekeeper so my husband can work." The children are happy to help make the folders, packets and giveaways that OJNA facilitates. Rosner attended Columbia University Nursing School, Hunter and Columbia for B.A.s and received her M.A. in Ramapo. "Columbia sends alumni emails every year. I had sent them a snapshot of what we've been doing." Soon, Rosner's face was on Columbia's social media as the face of their nurses on the frontlines. She also gave back to her own hospital. "I requested that the kids in my community make cards and letters for the hospital employees and I brought them to work to cheer everyone up. They were hung in the ICU, emergency room and the hospital lobby."
Please visit www.jewishnurses.org to donate to Pulseox monitor and mask campaigns.
See article on www.Jewinthecity.com here.