Raina Leon Named to Chicago's Ninth Annual Jewish "36 Under 36" List
July 14, 2020
CHICAGO – Raina Leon, 26, Chicago Chair of Orthodox Jewish Nurses Association, has been named to the Ninth annual "Double Chai in the Chi: 36 Under 36" list of young Jewish movers and shakers in Chicago who are making major contributions through their work, in their free time, and in the Jewish community and beyond. Many of this year's honorees have gone the extra mile during COVID-19, working on the front lines, creating community in innovative ways and ensuring access to basic necessities.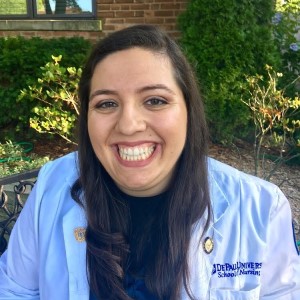 (The letters of the Hebrew word "chai," which means "life," also represent the number 18.)
Check out the list and full bios online at www.oychicago.com/36under36.
The list is compiled annually by JUF's Young Leadership Division and Oy!Chicago (oychicago.com), a website for Chicago 20- and 30-somethings.
The roster is replete with entrepreneurs, innovators, activists and more. It runs the gamut from doctors and lawyers to teachers and professors to restaurateurs, rabbis and tech designers.
"I'm inspired by the many honorees who have gone above and beyond throughout the pandemic," said Stefanie Pervos Bregman, Oy!Chicago's co-founding editor, "Without missing a beat, so many have stepped up to help in addition to their ongoing contributions to our community."
"I am extremely impressed by the determination and commitment of our honorees," said Mike Schwartz, past YLD Board President and former Double Chai honoree. "They are devoted to changing our world for the better. Whether it be through informing our youth or ensuring our history remains present, this year's list gives me confidence that our future is in good hands."
_____
There is never a dull moment with Raina Leon around. Working as a labor and delivery nurse, Raina takes caring for her patients and coworkers to the next level. With increased stress surrounding the COVID-19 pandemic at Prentice Northwestern, Raina adds life to her unit by planning parties and themed activities, and even transformed the break room into a relaxing Hawaiian beachfront.
After exhausting night shifts, Raina finds the energy to volunteer at a community antibody screening drive where she drawing blood and shares important information about COVID-19.
Raina's love for helping others radiates into all aspects of her life. She is actively involved in Project 613, Jewish Nursing Organization of Chicago, the Chicago Chair for Orthodox Jewish Nurses Association, and bikes the drive for Chai lifeline. This superwoman can do it all!
AGE:
26
PRIMARY GIG:
Labor and Delivery Nurse
ON THE SIDE:
I dabble in vacation planning (just for friends)
RELATIONSHIP STATUS:
Single
CELEBRITY DOPPELGANGER:
Melissa McCarthy or Rebel Wilson.
SOMETHING MOST PEOPLE DON'T KNOW ABOUT ME:
I had a patient name her child after me.
YOUR BEST PIECE OF ADVICE:
COVID-19 is infectious, but so is happiness.
HOW YOU JEW IN CHICAGO:
By taking advantage of all the wonderful organizations and Jewish businesses in Chicago. I love the JUF YLD Big Event Fundraiser, I have volunteered at the Uptown Cafe and have been part of many organizations like Chai Lifeline, Madraigos, and the Chesed Fund. I also connect to women in my community by playing basketball in the Women's Jewish Basketball League (WJBL).